The
Sugar Plum Fairy
is a character in
Barbie in The Pink Shoes
. She is the main female lead role for the
The Nutcracker
ballet, and she is voiced by
Tabitha St. Germain
.
Story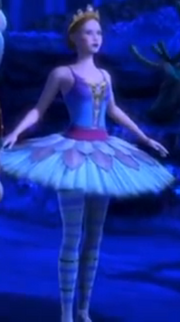 The Snow Queen tells her and the Nutcracker to inspect every doghouse, mouse house and gingerbread house in the land until they found Giselle. They had to look for Giselle because Kristyn Farraday was transported to their world with a pair of magical pink shoes. Kristyn had taken on the appearance of Giselle and was changing the story of the Giselle ballet, angering the Snow Queen.
The Sugar Plum Fairy found it exciting to look for Giselle, so the Snow Queen froze her for "craving excitement".
Personality
The Sugar Plum Fairy is very ditzy and inarticulate. She is also quite childish, because she put her hand up to speak like a child would before speaking to the Snow Queen. The Snow Queen disliked her excitable personality and froze the Sugar Plum Fairy.
Physical Appearance
The Sugar Plum Fairy has pale skin and brunette hair in a bun. She wears a gold tiara that has jewels in it. Her makeup consists of bright pink blush, purple eye shadow and purple lipstick. She is seen wearing a purple leotard that has a design with jewels on the front. Her tutu is white, pink and purple, and her tights are striped like peppermint candy.
Quotes
"Um, um, um, um... So Giselle is gone, like, vanish, like 'poof'? Wearing pink shoes? Ooh! Sounds exciting!"
Trivia
Community content is available under
CC-BY-SA
unless otherwise noted.