Stacie is a character from Barbie & Her Sisters in A Pony Tale.
Story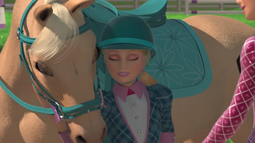 Stacie and her sisters spend the summer in the Alps of Switzerland. They visit their Aunt Marlene at the Alpine Riding Academy. Stacie is excited to ride a horse, because it's her first time to doing it. She is picked by a horse named Pepper, but when she tries to ride her, Pepper walks away and Stacie falls into the mud while three boys from École Montagne laugh at her.
Throughout the remainder of the vacation, Stacie practices her horseback riding skills. Unfortunately, Pepper keeps doing things to humiliate Stacie. Stacie is upset and asks Marlene to give her a new horse, but Marlene said that Pepper chose Stacie so she must keep her. While training for the competition, Stacie saw Marie riding her horse, and became even more confident in her ability. When it was Stacie's turn, Pepper again made her fall, and Stacie became even more angry. Meanwhile, Skipper and Chelsea were laughing and taking pictures of her for their next holiday card.
Barbie finds Stacie skateboarding and ignoring Pepper. She asks Stacie why she isn't training for the competition, and she answered that she wasn't going to be in it anymore. Barbie then talks with Stacie about her horse problems. Stacie wonders why she excels at any other sport, but she can't control a horse. Barbie tells her that a horse is a living, breathing thing that has feelings too, and suggests that she try to become friends with her horse. Stacie then successfully attempts to become friends with Pepper. In the competition, Stacie does very well, although she comes in second place. The first place winner is from École Montagne.
Physical Appearance
When Stacie and her sisters arrived at the horseriding academy, her hair in a wavy ponytail in a pink hairband. She was wearing a pink top with a horse shoe pattern on it, and a denim jacket with pink detailing. She had a dark blue skirt on that had pockets on the hips, and she had pink and white socks on and knee-high aqua blue sneakers.
Her nightwear is a blue t-shirt with 3/4 length sleeves and the pink 92 numbers printed on it, and her pink pants is 3/4 length and plain.
For riding, she wears white t-shirt with light pink collars and aqua horseriding jacket. She also had a light pink pants, aqua boots, and aqua helmet with light aqua stripes.
She wears a simple and plain aqua dress to the party, pink high heels, and silver pearl necklace with light pink bow on the left side. Her hair is down, wavy, and her hair is also seen in flower shape on the right side of her head. Actually, she wants to wears her aqua high heels, but Barnaby chewed it up.
Community content is available under
CC-BY-SA
unless otherwise noted.