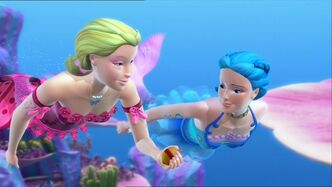 Mermaids
 is a type of creature in the
Barbie: Fairytopia
series. They are creatures that inhabit
Mermaidia
. They are ruled over by
Prince Nalu
.
Physical Appearance
Mermaids and mermen are beautiful creatures with the heads and torsos of humans with tails of fish. Like fairies, mermaids range widely in color and they can have hair colors a human would not have, like Nori's blue hair. They have endless types of tails with sparkling scales that are brightly and colored, with ornate and detailed patterns like flowers and spirals adorning their scales. Mermaids can also be tattoed with the Courage Crest on their arms if they reach the Depths of Despair.
Powers and Abilities
Underwater Breathing: They can breath and stay underwater for long periods of time.
Trivia
Fairies can turn themselves into mermaids by going to the Depths of Despair. They can revert back to fairies by eating the True Self berry.
Community content is available under
CC-BY-SA
unless otherwise noted.