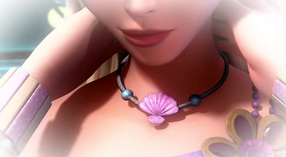 Merliah's necklace
is a magical necklace that appears in
Barbie in A Mermaid Tale
and
Barbie in A Mermaid Tale 2
. Merliah is given the necklace so that she can use it to fully become a mermaid whenever she wishes.
Story
Mermaid Tale
After Merliah was crowned as Princess of Oceana, she was happy but sad as well because she couldn't turn back into a human, which meant giving up on surfing as well as Malibu. Queen Calissa took a shell from her crown and used magic to make a new necklace, which she gave to her. This necklace allowed her to become a mermaid or a human as per her wish.
Mermaid Tale 2
Kylie was tricked by Alistair to steal the necklace, thinking it would help her beat Merliah. When Kylie used it and became a mermaid, she was led to Eris' whirlpool. Kylie fell into the whirlpool so Eris was freed from it. Merliah came to Kylie's rescue and let Kylie keep the necklace so she could breathe underwater.
After Merliah participated in the Changing of the Tides Ceremony, she could transform any time she wished so she didn't needed the necklace anymore, her mother gave Kylie the necklace for helping them.
Trivia
In some scenes of Barbie in A Mermaid Tale 2's storybook, the design of necklace is different. The necklace has purple/violet pearls and a purple shell in the middle, instead in the movie the necklace has two blue pearls and pink shell in the middle.
Gallery
Community content is available under
CC-BY-SA
unless otherwise noted.