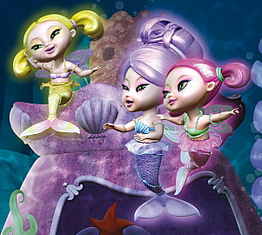 Merfairies is a type of creature in the Barbie: Fairytopia series. They're hybrids of fairies and mermaids.
History
Merfairies live in underwater houses in Mermaidia.
Physical Appearance
As the merfairies are hybrids, they resemble fairies from the waist up and mermaids from the waist down. However, some of them are smaller than others. The Sea Butterfly is a merfairy who is bigger than the trio Elina met. 
Powers and Abilities
It is speculated that merfairies possesses abilities of both fairies and mermaids.
Gallery