Madame Katerina
is a character in
Barbie in The Pink Shoes
. She is voiced by Lori Triolo. She works at her sister
Madame Natasha
's ballet company as a seamstress with
Hailey
.
Story
When Hailey cannot find any other dance shoes that are Kristyn's size, Katerina gives her a pair of pink shoes. At the end of the film, after watching Kristyn's successful performance, Madame Katerina returns the pink shoes to a cabinet where there are many more pairs of magical pink shoes. So she knew about the pink shoes and decided to give them to Kristyn after she looked at the dresses and of Giselle and Odette and told her that she dreamed to dance like them.
Personality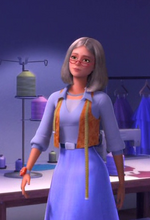 Different from her sister, Madame Katerina tends to be more understandable and sweet. She comforts Kristyn and always compliments her for her dance. She is a kind and optimistic woman.
Physical Appearance
Madame Katerina has pale skin, gray hair and brown eyes. She wears a blue dress with a black belt and a and a golden vest. She wears a pearl necklace and red glasses. She is also seen having seamstress meter around her neck. She also has a pincushion bracelet with needles.
Quotes
"Furious! Isn't it wonderful?"
"I don't know about that. But I do know, Kristyn, that it's your turn for the showcase in fifteen minutes."
"Coming!"
"Shoes... Well there should be some extras over by the Giselle costumes"
"Oh... nonsense dear, "I saw the whole thing... beautiful dancing, like a butterfly!"
"Try over in the Swan Lake storage"
"Careful, we're not quite done with that one yet"
"But your milkmaid dance is a delight"
"I wanted that too, but Natasha did all the dancing talent in our family"
"The Snow Queen! Our holiday production this year"
"Not this one"
"Oh, wait! I might have something here"
"They're for you, my dear"
"Good. Follow your instincts."
Community content is available under
CC-BY-SA
unless otherwise noted.