Chelsea is a character from Barbie & Her Sisters in A Pony Tale. she is the shortest of barbie s sisters
Story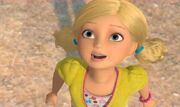 Chelsea and her sisters spend the summer in the Alps of Switzerland. They visit their Aunt Marlene at the Alpine Riding Academy. Chelsea hopes to ride a big horse, but none of them choose her. At last, she is chosen by a pony named Dash. She is disappointed because got a small horse, and Barbie tells her that she can ride a big horse when she is a little bigger.
Marlene finds Chelsea hiding hiding from Dash behind some bales of hay. Marlene learns that Chelsea is annoyed with Dash because she keeps following her. Marlene sniffs Chelsea's hair, and asks her about the scent. Chelsea replies that it's her favorite shampoo, marshmallow. Marlene explains that Dash likes marshmallows too, as well as bows, glitter, and anything pink. Chelsea decides to give Dash another try, and thinks of a lot of fun things she can do with her.
In the competition, Chelsea decorates Dash with lots of colorful bows and pink glitter, and they win the pretty pony competition. When the sisters are getting reafy to return home, Chelsea promises to send Dash her favorite marshmallow shampoo, and apologizes for not liking Dash at first.
Physical Appearance
Chelsea has blonde in a middle parting and was in two wavy pigtails with blue hairbands. She wears a white vest with flowers and hearts on it, and a yellow cropped cardigan. She has a pink bracelet on, and light pink capri pans. Her shoes are dark pink with a buckle, and light pink flowers were on them. To sleep, Chelsea wears a yellow and light pink t-shirt, a 3/4 length light pink pants, and light pink slippers with rabbit ears on them.
While riding, Chelsea wears a white shirt with pink ribbons, light pink vest with pink stripes 3/4 length sleeves, white pants, and pink boots. Her helmet is pink with light pink stripes and yellow bow on the right side. During the party, she wears light pink dress with pink belt and yellow lace on the skirt. She also wears pink shoes with bows, a necklace, and pink roses on her hair.
Community content is available under
CC-BY-SA
unless otherwise noted.