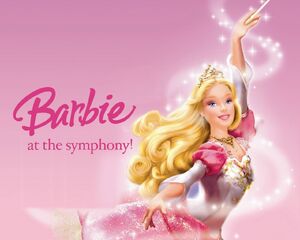 Barbie At The Symphony! was a special film and orchestral presentation conducted by Arnie Roth.
Commercial
Official Description
"A children's animated classical music experience, Barbie At The Symphony is a special film with orchestra presentation of scenes from the best-selling Barbie "Princess" movies. This series of six CGI animated films features Barbie singing and dancing to some of the world's best-loved musical scores, with ballet sequences choreographed by Peter Martins of the New York City Ballet. Released in over 30 languages, these popular films have introduced millions of children to ballets such as The Nutcracker and Swan Lake and the timeless music to which they are set. Now, for the first time ever, families can enjoy the classical music from the films, played live by a full symphony orchestra, while watching favorite scenes on the big screen."[1]
About
Composer Arnie Roth told a reporter, "It was the perfect choice since the music is both well known and associated with a familiar plot. In adapting it to make Barbie play the lead, we remained pretty true to the classic story." Tickets were £15 (in the UK) and the show was an hour long. It began with music from Barbie in the Nutcracker, and also featured music from Barbie as Rapunzel, Barbie of Swan Lake, Barbie as the Princess and the Pauper, Barbie and the Magic of Pegasus, and Barbie in the 12 Dancing Princesses. Barbie interacted with Arnie Roth throughout the show.
Dates
Glasgow's Royal Concert Hall.
Community content is available under
CC-BY-SA
unless otherwise noted.