Barbie is the main protagonist of Barbie Video Game Hero. She is voiced by Erica Lindbeck. Barbie is teleported into her tablet when she accepts Cutie's request to beta test his game in order to defeat a virus infecting it. She was chosen to save the game world, due to her high scores in gaming. Her favorite video game is Just Dance, a real-life dancing game.
Physical Appearance
Outside of the game
Barbie wears hot pink high-top sneakers, blue jeans with Emoji patchwork, and a white shirt with a voxel girl graphic resembling Maia, and short pink sleeves with white stars. Barbie also wears a light-grey and pink headset with pink hearts when she plays computer games.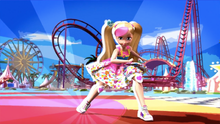 Video Game form
When Barbie is in the game, she is an anime character with extremely long pigtails with a pink bang, and a blue smiling heart that floats above her head. Her outfit consists of:

A blue shorts leotard with digital square and heart patterns that are more visible in the dark; with pink as its secondary color, along with yellow hearts and a pink heart brooch.
A white skirt with multi-colored pixels and symbols; such as smiley faces, hearts, and stars. The skirt also has a pink piece of translucent vinyl.

The base color of the skirt is pink in Levels 2 and 3.

White floating kneepads with pink hearts (only seen on her main form).
Color-block sneakers that sometimes have pink-and-orange wheels.

These are replaced with blue boots in Levels 2 and 3.
Trivia
The books state that Barbie's favorite video game is Cupcake Caverns, despite her being the developer of the game, and her favorite game in the movie being Just Dance.